The Ultimate Lash Duo Has Landed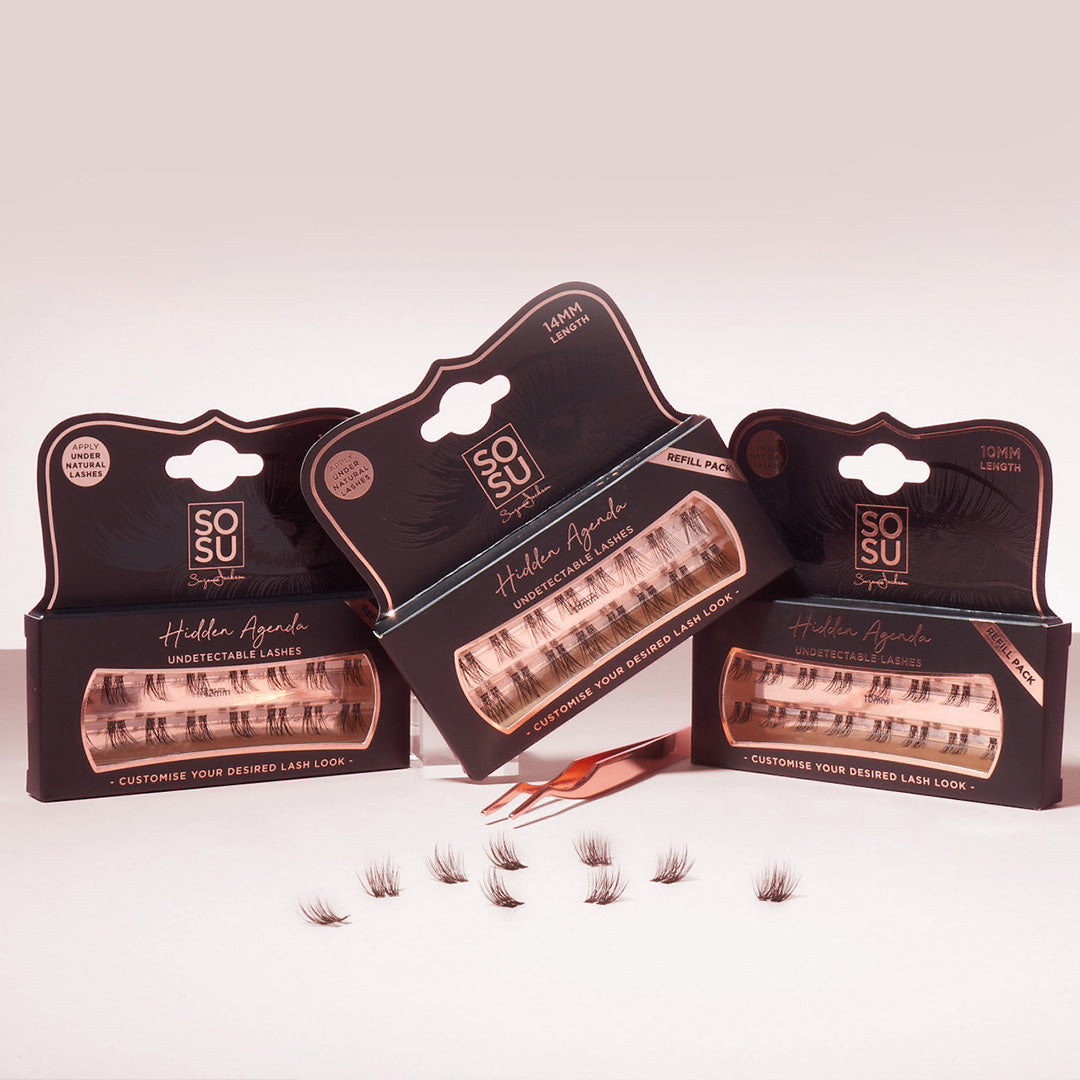 Introducing the lash duo you have all been waiting for; SOSU Cosmetics' Hidden Agenda Refill Packs and Precision Lash Applicator...
This is one for all of our Hidden Agenda lovers out there. You asked, we listened. We have finally launched our Hidden Agenda Refill Packs so you can replenish your fav lash lengths and get full use of your original pack and adhesive. Specially designed to apply under the natural lash line, our Hidden Agenda lashes get you that flawless lash extension look, without any of the damage to your natural lash.
If you haven't already gotten hooked on Hidden Agenda, these are the lashes that changed the game. These lashes are super lightweight and allow complete customisation with 3 different lash lengths (10mm, 12mm, 14mm). The perfect way to create a customised lash-look of your choice that add length & dimension & they last up to 3 days with maintenance.
Why you'll love them;  
Last up to 3 Days with maintenance
3 Lash Lengths for complete customisation – 10mm, 12mm, 14mm
Adds length & dimension
Super Lightweight
How to apply;  
Step 1; Brush on under lash adhesive and wait 10-15 seconds
Step 2; Gently remove individual cluster from tray using SOSU Cosmetics Precision Lash Applicator
Step 3; Apply underneath your natural lash line, close to the lash root
Step 4; Press Gently along the individual cluster to secure
Step 5; Repeat until your desired look is achieved.
Say goodbye to lash extensions and hello to Hidden Agenda! 
To truly complete your captivating eye look, stay on with SOSU Cosmetics. We've got you covered with many lashes options, including individual lashes tailored for every occasion. Don't forget to explore our exquisite eyeshadow palettes and makeup brushes, designed to seamlessly complement our lash collections.
Happy Shopping,
SOSU Cosmetics x