Introducing the SOSU Cosmetics x Bonnie Ryan Collection: Your Glamorous Journey Begins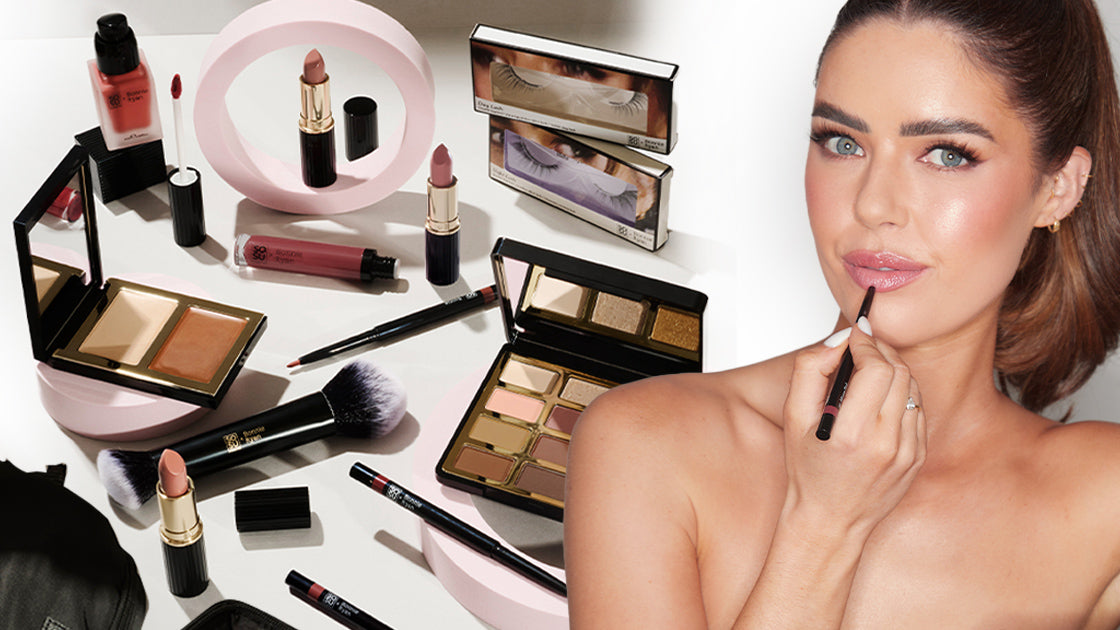 SOSU Cosmetics is thrilled to unveil a stunning new collaboration with the talented makeup artist and influencer, Bonnie Ryan. This much-anticipated collection is set to launch both in stores and online on Friday, November 10, 2023. Bonnie's close association with the Irish female-led brand since 2019 has made this collaboration "a match made in heaven," as confirmed by Bonnie herself.
This exciting collection features a diverse range of 11 makeup products, spanning from Lip Kits to a captivating Eyeshadow Palette. Bonnie's vision for this collection is to make it "super wearable for all ages." Inspired by the city chic essence of the early 1990s supermodel era, each piece exudes nostalgic overtones that will resonate with fans.
Luscious Lips: Lip Kits & Lip Gloss
Within the collection, you'll discover three highly pigmented, creamy Lip Kits, each containing a lipstick and a long-wearing lip liner. These shades pay homage to the 90s, with options including a nude pink, a soft brown, and a beautiful mauve shade. These Lip Kits are perfectly designed to complement the Lip Gloss, which offers a smooth, silky rosy-pink shade with a high-shine finish.
Alluring Lashes: Day and Night Lashes
Known for her signature fluttery lashes, Bonnie has included not one but two lash options in her collection. Both are three-quarter length and double-layered. The Day Lash offers a wispy effect for a subtle yet effective daytime look, while the Night Lash provides a feline effect, perfect for achieving a dramatic evening look.
Radiant Blush & Contour: Liquid Blush and Contour & Glow Palette
Blush has been a staple in Bonnie's makeup kit for years, and her collection includes a radiant Liquid Blush filled with brightening pigments, providing a gorgeous glow to your skin. It's buildable and long-lasting, working beautifully with the Contour & Glow Palette. This palette offers a cream to satin finish in beautiful bronze and champagne shades. Use the darker shade to create depth and warmth and the lighter shade to enhance high points and add a subtle glow.
Effortless Application: Dual Ended Brush
Both the Liquid Blush and Contour & Glow Palette can be applied with Bonnie's Dual Ended Brush, designed for effortless blending of cream, liquid, and powder products. The smaller, angled brush contains densely packed bristles for precise application, while the larger, fluffy end blends away any harsh lines on the face.
Versatile Eyeshadow: SOSU Cosmetics x Bonnie Ryan Eyeshadow Palette
The SOSU Cosmetics x Bonnie Ryan Eyeshadow Palette is a showstopper, featuring 12 versatile shades in high shimmers, micro glitters, and velvety mattes. This palette enables you to create a variety of looks with tones such as warm browns, muted mauves, pinks, and metallics.
Perfect Storage: Multi-Compartment Makeup Bag
The collection also includes a multi-compartment Makeup Bag designed perfectly to fit the entire collection and more. It includes a separate compartment for brushes at the bottom, a wide opening for convenient access, and extra secret compartments for easy storage.
"I wanted to develop a line of products that make you feel like you're the main character, a chic individual who lives life on the move and looks flawless while doing it. A collection you reach for day, night, and time again," says Bonnie Ryan.
Suzanne Jackson, Founder of SOSU Cosmetics, adds, "Bonnie has a long history with SOSU Cosmetics, working with us since 2019. We were one of the first brands to work with her, and it's been a dream since the beginning. She embodies what SOSU Cosmetics is all about, and her hard work, innovation, and passion has shone through throughout the whole process of creating this collection. A long time in the making, I'm so proud to finally bring it to market. All of our hearts and souls when into making it come to fruition, and I can't wait for you all to fall in love with it like we have!"
Get ready to elevate your beauty game with the SOSU Cosmetics x Bonnie Ryan Collection. It's a glamorous journey inspired by the iconic 90s supermodel era and designed for you to shine at any time, day or night. Mark your calendar for November 10, 2023, and embrace this exciting new makeup collection that's set to become your go-to for stunning, flawless looks.
Interested in getting a closer look at the collection and top tips on how to use them? Come along to one of the SOSU Cosmetics x Bonnie Ryan Masterclasses during our roadshow this November!